Founded in 1972, CTV was originally established under the name of Chenango Tool.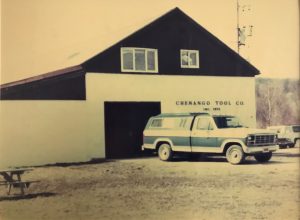 It's founder, Lloyd Baker, specifically concentrated on the tooling aspect of the plastics industry. Under Lloyd's direction the company worked with local industry leaders to manufacture tooling for their molded parts.
Chenango Tool flourished as it continued to expand its customer base until an opportunity presented itself. In 1995, Chenango Tool purchased Madison Plastics in Verona, NY. This purchase broadened Chenango Tool into molded plastic manufacturing. The merger of Chenango Tool and Madison plastics formed Chenango Valley Technologies in 1996. As CVT continued to thrive it continued to reinvest in the company and its capabilities. Throughout the years CVT has added or upgraded its tooling machinery, molding presses, and its facilities.
Chenango Valley Technologies'
History of Growth
The following timeline highlights how CVT has steadily grown and continues to do so now and into the future.
1970's
1972 – Lloyd Baker establishes Chenango Tool Company Inc and the company is incorporated. Chenango Tool is founded as a tool and die shop specializing in the production of injection molds and fixtures. The original shop is in Plymouth NY.
1975- Chenango Tool upgrades to a larger facility on Route 12B in Sherburne, NY and hires its first employee.
1976- Chenango tool invests in EDM (Electric Discharge Machining) technology. This new equipment allows for faster and more precision tools to be created.
1980's
1980 – Chenango Tool continues to expand and now has 4 full time tool makers and a tool designer.
1983 – Chenango Tool increases in size moving into its new and larger facility on Route 12 in Sherburne. At the same time, adds 2 machines to its EDM equipment.
1985 – Chenango Tool advances capabilities investing in CNC (Computer Numerical Control) technology with the purchase of a 3 axis CNC milling machines.
1986 – Chenango Tool upgrades the design department adding CAD (Computer Automated Design) Technology. All design work is generated with CAD Soft-ware from this point.
1987 – Chenango Tool continues to grow the EDM department with the purchase of a CNC Wire EDM and a NC Plunger EDM. Chenango Tool now has 7 full time toolmakers.
1990's
1990 – Chenango Tool continues to develop its customer base and builds precision injection molds for OEM's (Original Equipment Manufacturers) and Custom Injection Molders through out the Central New York Region. Medical injection molds are the most common tools produced.
1995 – Chenango Tool purchases long time customer Madison Plastics of Verona, NY. Madison Plastics is a custom injection molding company with 6 molding machines running 1 shift daily. 2nd Generation Shawn Baker starts a full-time career as a mold-maker.
1996 – Chenango Tool's Management, Madison Plastics adds a second shift. Madison Plastics purchases 2 new molding presses.
1997 – Madison Plastics and Chenango Tool merge and become Chenango Valley Technologies (CVT). CVT adds a 3rd Shift. CVT employs 25 people.
1997-1998 – CVT purchases, remodels and moves into its present location at 328 Route 12B in Sherburne NY. CVT becomes a 1 stop source for molded parts. CVT proudly offers in house design, mold making, and injection molding all under one roof. CVT adds 2 more presses.
2000's
2000- Shawn Baker forms Northeast Products. Northeast Products sells protective battery boxes to the marine, RV, and automotive industry.
2003- CVT adds 2 new presses. At this time, CVT has 12 presses ranging from 30 to 400 tons. Threaded caps become a specialty item for the CVT team.
2008- CVT continues to grow and adds a 400 ton molding press to serve the automotive and lawn & garden markets.
Northeast Products and CVT become a single entity.
Shawn Baker becomes Vice President of sales for CVT.
2010's
2011 – With steady continued growth and opportunities CVT adds 3 more molding presses.
2012 – CVT updates and adds additional molding presses now totaling 20 machines.
CVT installs a new water system conserving 10,000 gallons/week. This new system is the beginning of CVT's "Green/Environmentally friendly" effort.
A new submersible wire EDM is added to the tool room.
2014 – With flourishing sales and the need for space CVT enlarges the warehouse. The current facility is now 30,000 square feet in size.
Lloyd Baker begins retirement and Shawn Baker is promoted to President.
2015 – CVT designs and installs a "Heat Recovery system" to use post process heat. This new system can heat the entire warehouse without a furnace and saves thousands of dollars.
CVT adds a new high amperage EDM with a large tank to build larger precision molds.
A 3D printer is added to offer rapid prototyping.
A commitment is made to always have the latest version of 3D CAD design software.
2016 – CVT adds a new 500 ton molding press, a material storage silo, and an automated material conveying system. This new equipment allows CVT to grow its molding operations and decrease handling costs.
2017 – Shawn Baker and wife Katie, formally purchase CVT from Lloyd and Lucy Baker. Lloyd and Lucy are now retired with no responsibilities to the company. Lloyd currently has a new much smaller office in the back of the building where he enjoys free coffee and internet.
In an effort to increase training, CVT offers New York State Apprenticeship training for Toolmakers and Plastic Process Technicians. CVT employs 45 people.
2018 – With growing medical and precision molding opportunities CVT purchases 2 new Vertical molding machines. By years end CVT will have 23 molding presses ranging from 20 to 500 tons. Tooling /Mold-making and Design sales increase at a rapid pace. A new high-speed machining center is installed.
2019 and beyond… We predict continued growth for decades to come. It is our goal to grow CVT at a rate the keeps up with customer demand without compromising service. Our finances are managed to minimize debt for stability and allowing cash purchases for growth. We are here for the long term, relying on our most important asset: OUR EMPLOYEES to service our VIP partners: OUR CUSTOMERS.